FireBoard 2 BBQ Thermometer
Introducing FireBoard 2, the newest member of the FireBoard family.
What's Included;
Fireboard FBX2 Thermometer
Charger
Ambient Probe
2 x Food Probes
Grill Clip
Quick Start Guide
Easy to setup and install on your wireless network, the FireBoard® pushes realtime temperature updates via the cloud to apps for iPhone, Android, and the Web. The FireBoard® supports up to 6 external temperature probes which provide accurate and reliable temperature monitoring in many different environments and applications.
The FireBoard 2 boasts a large, multi-view graphing LCD screen capable of showing data from up to six probes at once. The side buttons let you toggle displays to see graphs of single or multiple channels. The auxiliary port allows Drive function with the Drive Fan Cable, and the USB Type-C power connector supports higher power voltage for fan operation. With a built-in, weather-resistant case and approximately 30 hours of battery life, the FireBoard 2 will keep your temperature monitoring going strong.
FireBoard 2 is easy to set-up and use through the FireBoard App. Temperature data is stored on the device as well as your FireBoard cloud account. Data is synchronized, so you can view historical and current sessions. Connecting via Bluetooth and WiFi, you can receive alerts from just about anywhere.
INCREDIBLY SMART
All your temperature data is stored both onboard the device and on your FireBoard Cloud account. Data is synchronized between the two – so you can always view your historical and current cooking.
CLOUD CONNECTED
The FireBoard connects via WiFi to our FireBoard Cloud servers, allowing you to monitor temperature remotely via your phone or the web.
ALERTS
Set up alarms to notify you via SMS, Email or Push notification when your target temperatures are reached.
​DRIVE CONTROL
Control your wood or charcoal BBQ with the optional Drive fan control system. Easily power any 12v fan to maintain a steady temperature. Also features lid-open detection!
ACCURACY
We wanted to make sure our design provided accurate and reliable temperature readings. This requires two things: a solid circuit design; and robust and accurate temperature probes. FireBoard has both.
WIFI + BLUETOOTH
FireBoard is also a Bluetooth thermometer. If you don't have WiFi, you can still use it conveniently within Bluetooth range. Data is still automatically synchronized to your Cloud account via your mobile data.
BATTERY POWERED
The FireBoard has a Li-Ion rechargeable battery. It runs over 24 hours, even pushing data over WiFi! No need for extension cables to run your thermometer.
​6 CHANNELS
Measure multiple temperatures all from one device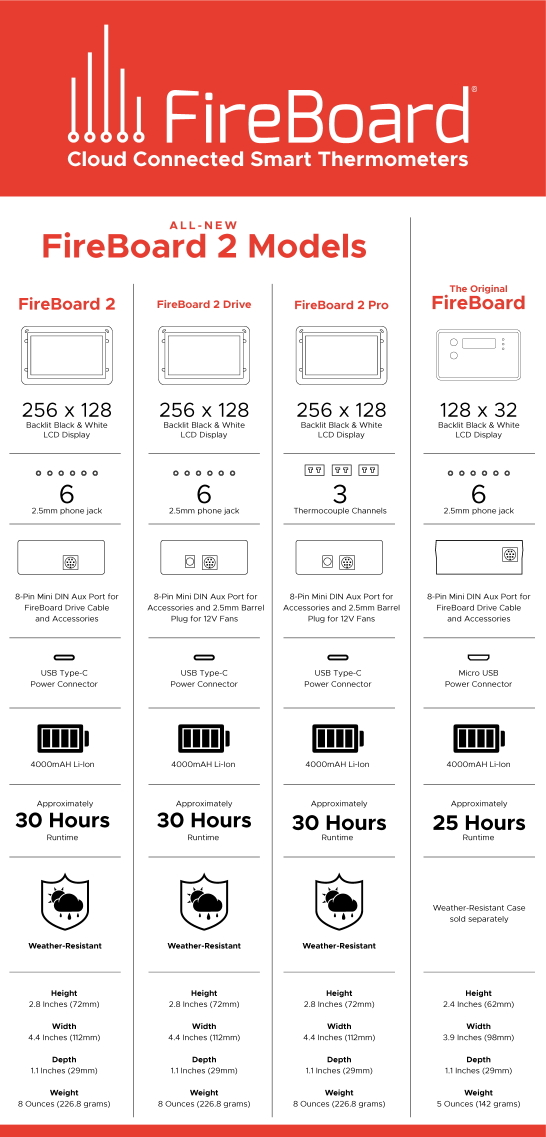 Delivery details / options for this product;
The Estimated Delivery Date for each product is shown beneath the green 'Add To Basket' button on that products page.
This item is available for either Click and Collect or Delivery.
Click and Collect is from our Hitchin, Hertfordshire warehouse Monday-Friday 9.30am-4.00pm - just choose the Click and Collect delivery option at the checkout.
Delivery is via Courier, and the delivery date is shown under the 'Add to Basket' button above.
We aim to pack and dispatch all our items within 24 hours of payment (Monday to Friday)**. Items bought over the weekend will usually be dispatched on Monday or Tuesday. The default delivery date is shown under the 'Add to Basket' button.
Orders over £100 are delivered Free of Charge to most mainland UK addresses, and orders under £100 incur a £5.95 delivery charge to most UK addresses. Delivery is generally next day service when ordered before 1pm Monday-Thursday.
You can check what delivery charge may or may not apply to an order by adding items to your Cart, clicking the View Basket button, and using the 'Estimate Shipping' function in the Summary section of the screen. This will give you a shipping cost without collecting any data from you - going this far through checkout is completely anonymous.
**Unless otherwise stated in the listing.